The Cheating Mind Offers Insights for Organizations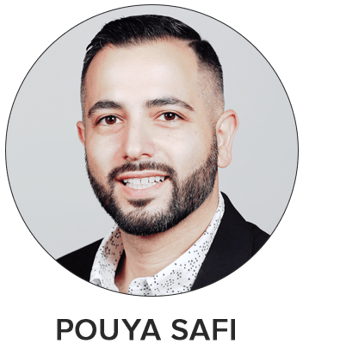 Why do people cheat? It's one of the essential questions of ethics, and one that carries major consequences for organizations when it comes to hiring people.
No ethical business wants to bring unethical people onto its team. There are ways to determine whether a person is honest and acts with integrity but in the end it comes down to a judgment call as to whether someone will do what is right.
Pouya Safi, associate director and professor at the University of Ottawa's Professional Development Institute, talks to LRN about why people cheat, the role of temptation in cheating, and what organizations need to consider when it come to cheating and hiring.
Why do people cheat? Is there some shared characteristic found in all/most people who cheat?
Pouya Safi: This is a million-dollar question! Circumstances for everyone that cheats can be different. Some may be doing it for greed, some for the thrill of doing something illegal, others because of circumstances they have been put in or the feeling of suffering at the hands of their organization. We can look back at the financial industry and the perpetual ratcheting of goals that many bankers faced each year, which led to the fake-account scandal.
Rather than try to attempt this one fully, I will take from Dan Ariely's book, "The (Honest) Truth About Dishonesty." Six of the points that I believe are quite relevant in understanding why people cheat are:
Most of us are 98-percenters: "1% of people would never steal, another 1% would always try to steal, and the rest of us are honest as long as we're not easily tempted." (Locks)
We rationalize it: "The biggest driver of dishonesty is the ability to rationalize our actions so that we don't lose the sense of ourselves as good people."
Psychological distance: "Our willingness to cheat increases as we gain psychological distance from our actions." Taking pencils is OK, taking money is not.
We cheat more when it is for other people: "People are able to cheat more when they cheat for other people." Otherwise called the ability to rationalize.
One (dishonest) thing leads to another: "Once you behave badly, at some point, you stop thinking of yourself as a good person at that level and you say, 'What the hell.'"
Encourage honesty, discourage cheating: "We don't react as well to punishments of cheating as we do to encouragements of honesty."
What role does temptation play?
PS: Temptation plays an incredibly big role in cheating, both on the side of enriching oneself or avoiding large losses. We see this quite often in most insider trading scandals with individuals that are equipped with material non-public information that could either make or lose them large sums of money. We often hear money is the root of all evil, and for cheating that statement is quite true.
Many people cheat when they feel that opportunity for gain outweighs the risk of being caught. What prevents the majority of people from cheating is the consequences of being caught far outweigh the benefits. Many regulatory bodies and law enforcement agencies parallel this and say that, "We may not catch you, but if we do…". For most people that is enough to dissuade them, but we know not everyone will view that consequence equally.
There is definitely also an "everybody else does it" effect in a lot of cheating instances. People rationalize when a majority of those around them are acting in certain ways, even if they are told it's wrong.
How should organizations approach the issue of cheating when it comes to who they hire, how they train employees and how they engage their people in ethics and compliance?
PS: There is no clear-cut solution. We often hear about tone at the top, and assuming top-led guidance can fix all these problems is a clear mistake and a narrow scope of vision. While the leadership, history and development of an organization can shape the organization's business ethics, often they are too far removed from the action.
A good organization needs to have codes of ethics and standards of professional conduct, alongside internal rules and regulations, but these cannot just be pages in books and memos. These messages need to be clear, without any noise, so they can be easily understood and interpreted.
To fully engage employees you need to keep it simple and attach consequences to actions that fall outside proper conduct. Touching on how they hire and train employees, so often the small things are overlooked when management feels it's found the perfect candidate.
Through proper references and background checks some issues can be mitigated, even to the point of ensuring you ask for copies of degrees which many falsely put on their CV's. References need to be approached cautiously, as most will not provide a reference of an individual whom they think will provide a poor one. It is important to note that you can ask for specific references as it relates to relevant jobs.
The route to engagement starts from the minute someone applies to a position. Interview questions can try to target personal ethics by putting individuals in ethical decision situations and trying to understand their thought process. Once an individual is hired, management needs to ensure new employees fully understand the company, feel a part of the team and are attached to the overall vision.
It is at this point that it's important proper organizational systems exist. These include proper structure, policies and rules, reward systems that encourage positive behavior vs. potential unethical lapses, and continuous learning and training that is not always focused on web-based applications that can easily be clicked through.
What does it mean to cheat? Is exaggerating a resume the same level of offense as stealing or lying under oath?
PS: Cheating is cheating, and all these scenarios above are all unacceptable. However, as a society we view certain things more improper than others do. I think it is safe to say that most people cheat just a little bit, but they usually draw the line somewhere, i.e. their golf game.
The big problem is that most people that cheat often start with something small like exaggerating on a resume. If they aren't caught, and it leads to something rewarding, it psychologically self-gratifies that "little cheat." I am not saying this is the case for everyone, but generally those that continue to act unethically or cheat with increasing higher stakes start to further push themselves down a rabbit hole.
I'll compare this to a cold swimming pool: The first foot you put in, it's often freezing, but as you slowly submerge yourself each time it starts become more tolerable, until you've completely gone in and the water feels fine. You start to lose sight of right vs. wrong, and do not view it as cheating anymore.
Is cheating the same everywhere?
PS: I will be cautious here and say that cheating is the same everywhere in the world. However, in many countries and regions certain forms of cheating is tolerated and accepted. As a professor, I see many international students and in some countries plagiarism is completely accepted, and that mindset is brought back to our North American schools.
It is no secret that our childhood, cultural and religious upbringings are strong forces in the ethical development of an individual. I think if you asked 10 individuals from different countries who they felt cheated more, they would all say their own country based on what they see. Very tough question to say which country cheats the most or least, but if we look at the Corruption Perception Index, the least-corrupt country is New Zealand and the most-corrupt country is Somalia.
Ben DiPietro

ben.dipietro@lrn.com